Smoothies have long been firmly established in the ranking of healthy breakfasts and snacks. They do not harm the figure and saturate the body with necessary vitamins and microelements. In spring, when energy for activity is often lacking, often craving for sweets, but at the same time it's time to return to the ideal shape for the bathing season, this is a real salvation for those who are always busy. Due to the large amount of fiber and dietary fiber smoothies from berries, fruits, vegetables, salads and vegetable milk for a long time satisfy hunger and allow you to forget about sandwiches and candy bars, which often lead to gaining weight. In addition, such drinks improve digestion and speed up the metabolism. Some of them are so delicious that they will easily keep you from the urge to eat forbidden desserts.
We also appreciated the benefits of smoothies and gathered for you 35 simple and tasty recipes with which you quickly say goodbye to extra pounds.
Apple And Carrot Smoothie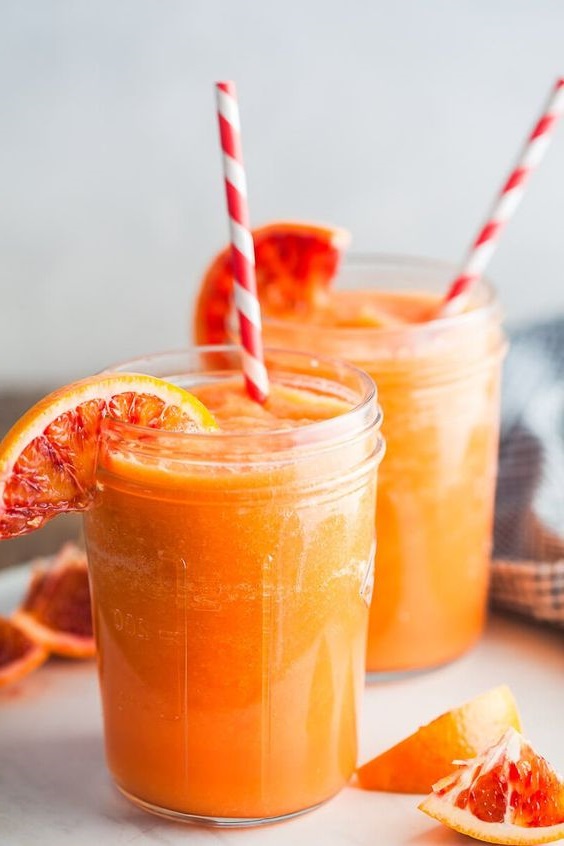 Delicious and bright combination of carrots and apples will fill you with energy for the whole day.
To make it you will need:
1 apple
1 carrot
100 ml of still mineral water
To prepare this smoothie, chop the apple and carrot in a blender, clean the apple from the seeds and cut into slices directly with the skin – it contains a lot of vitamins and fiber. Pour the finished smoothie into a glass and garnish with mint leaves.
To make the apple-fruit smoothie especially invigorating, put some ginger in the drink, and for nutrition add half a banana to the smoothie.
Strawberry And Banana Smoothie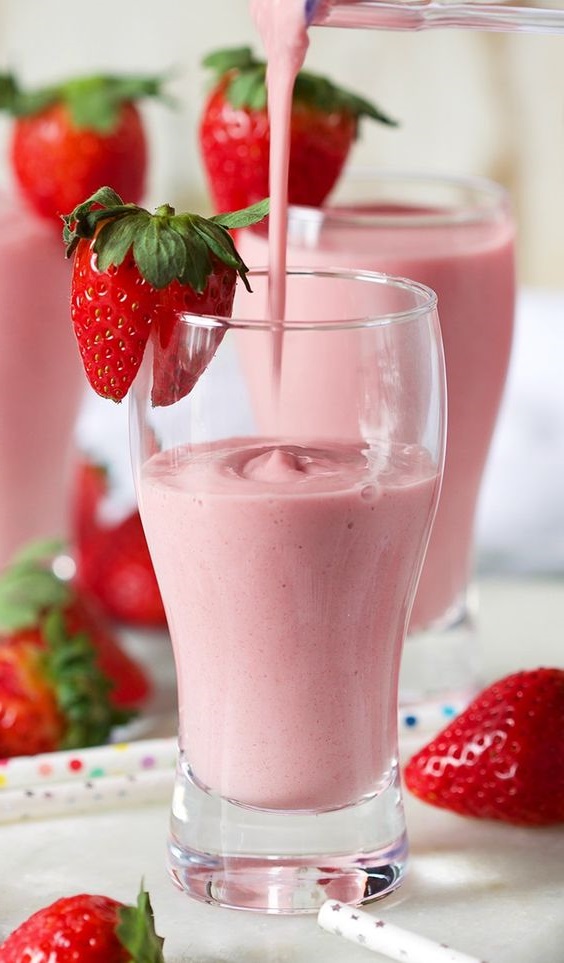 Strawberry season is about to begin, which means it's time to include a bright, refreshing and low-calorie strawberry and banana smoothie, familiar to many since childhood. True, then many people added milk or ice cream to the cup, but we know a healthier version.
To make it you will need:
200-300 grams of strawberries
a couple of sprigs of mint
half an apple
half a banana
tablespoon of lemon juice
100 ml of mineral water without gas
Thoroughly wash all the ingredients and cut them into small pieces. Blend the strawberries and mint with mineral water, then add the apple, banana and lemon juice to the berry mixture.
Want a more refreshing smoothie? Add a few ice cubes to the smoothie.
Raspberry Smoothie With Beets And Mint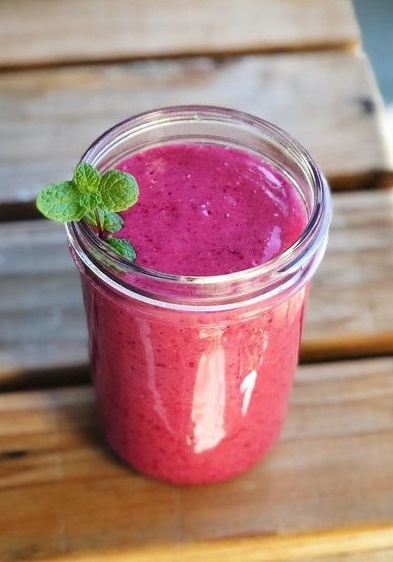 The combination of beets and raspberries is a real multivitamin mix, which strengthens the immune system and speeds up metabolic processes.
To make it you will need:
150 grams of boiled beets
60 grams of raspberries
250 ml of cranberry juice
To make this berry-vegetable smoothie mix in a blender boiled beets, raspberries and cranberry juice – pour the ready cocktail into glasses and enjoy the interesting taste.
Pineapple And Green Tea Smoothie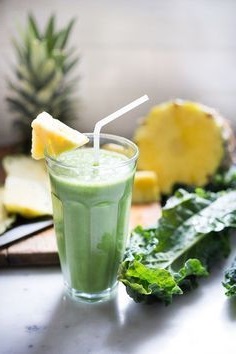 Green tea is a source of antioxidants and many other active micronutrients that effectively fight extra pounds, and pineapple is one of the richest sources of the enzyme bromelain, which also promotes good digestion and boosts metabolism. And the best part is that green tea and pineapple make a deliciously refreshing and healthy smoothie.
To make it you will need:
1 cucumber
bunch of spinach
200-300 grams of peeled pineapple
the juice of half a lemon
250 ml of green tea
piece of ginger
Beat in a blender all ingredients.
Such a green smoothie will be a tasty substitute for a light dinner.
Blueberry-Orange Yogurt For Weight Loss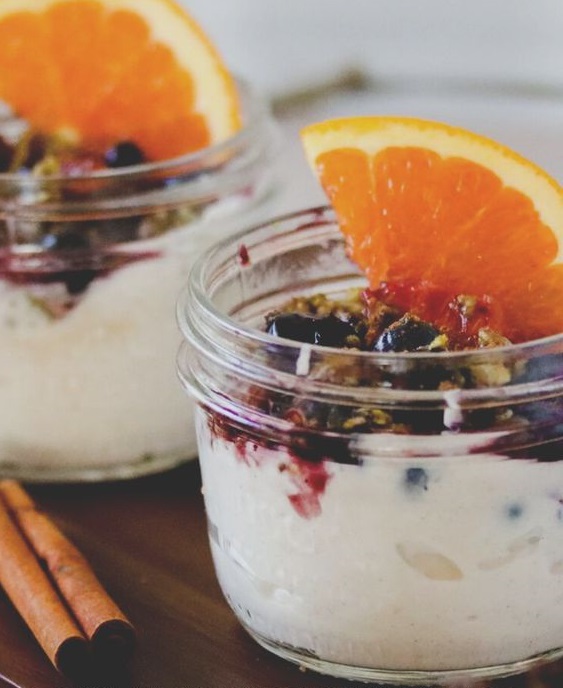 Blueberries contain a large number of vitamins and useful microelements for the body, and blueberry juice has the ability to cleanse the body and speed up the entire digestive system, so the use of this berry promotes weight loss. Also a unique property of blueberries is that they retain their useful properties even when frozen.
To make it you will need:
100 grams of washed berries (fresh or frozen)
300 grams of orange pulp
250 ml of natural yogurt
To prepare a healthy smoothie on the basis of blueberries mix washed berries, orange pulp and natural yogurt – this combination will replace breakfast or dessert. Also, the finished blueberry smoothie can be frozen and eaten as ice cream.
Green Dessert With Kiwi And Grapes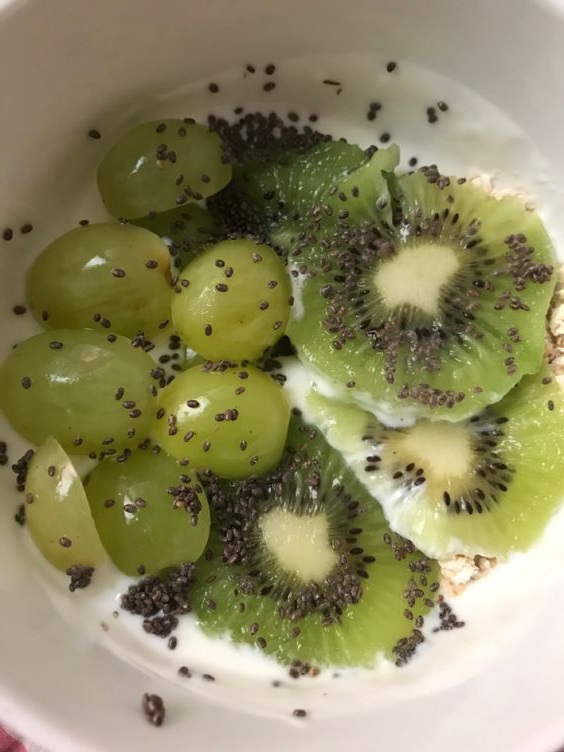 What to eat in the evening when you want something delicious but need to lose weight? A green smoothie with kiwi, grapes, and watercress will help you out.
To make it you will need:
200 grams of peeled kiwi fruit
150 grams of green seedless grapes
10 grams of washed watercress
1 tablespoon of honey
150 ml of natural yoghurt
Whisk all the ingredients until smooth and enjoy a delicious and low-calorie drink.
Smoothie With Cucumber And Apple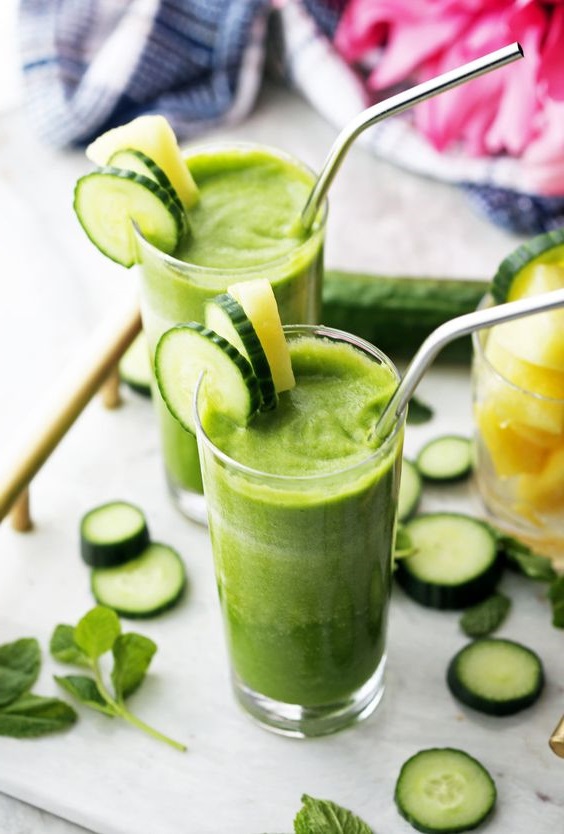 Another version of a diet smoothie that would be a perfect substitute for dinner. And which is very easy to make!
To make it you will need:
half a green apple
small cucumber
a couple of sprigs of mint
100 ml of normal or vegetable milk
Use a blender to mix together all ingredients.
Light and invigorating, this smoothie will cheer you up and make it much easier to lose those extra centimeters on your waist and hips.
Vegetable Smoothie With Broccoli And Spinach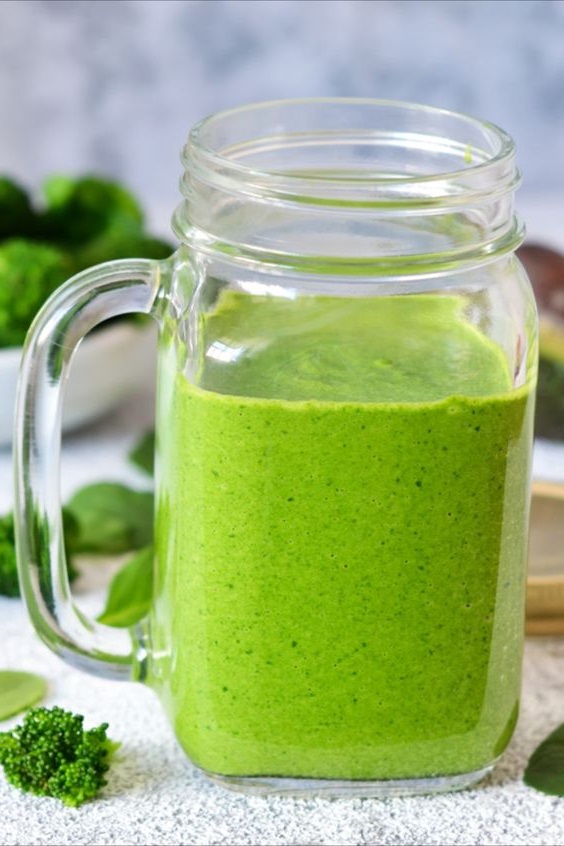 If you love greens and vegetables, and also love to experiment, then this diet cocktail recipe is exactly for you!
To make it you will need:
300 grams of broccoli
the juice of half a lemon or lime
bunch of spinach
a sliced green apple
It is not necessary to boil broccoli beforehand, you can use fresh or defrosted vegetables. Whisk the ingredients together thoroughly and decorate the drink with mint leaves for a healthy, low-calorie dessert!
Coffee Smoothie With Cottage Cheese And Coconut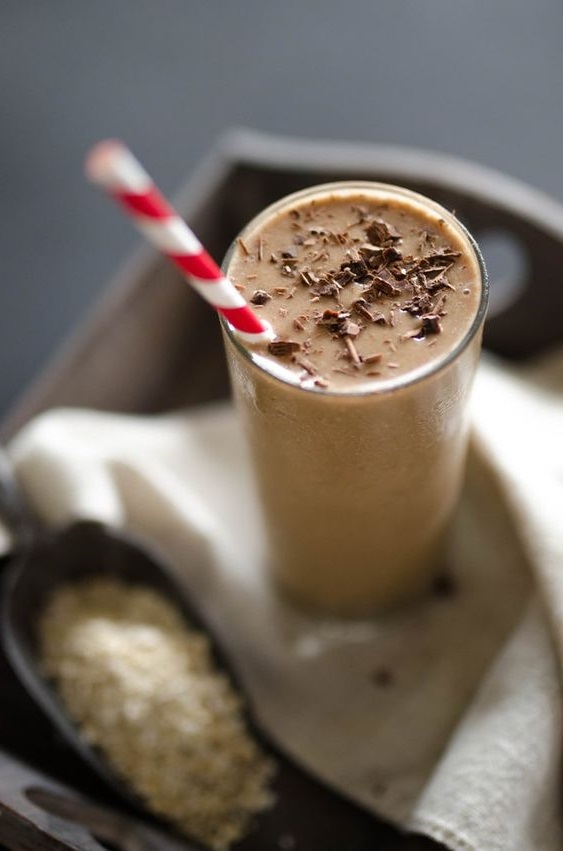 Want to treat yourself to a low-calorie dessert? Try a combination of invigorating freshly brewed coffee with coconut and cottage cheese. This smoothie is rich in protein, calcium, phosphorus, and B vitamins, so it will not only please you with a pleasant taste, but also give a feeling of fullness for a long time.
To make it you will need:
3 tablespoons of cottage cheese
200 ml of natural yogurt
50 ml of freshly brewed chilled coffee
1 banana
a tablespoon of coconut
Mix all ingredients together. And if you want to give the smoothie a nice chocolate flavor (you'll learn how to replace sweets and sugar here), add another teaspoon of cocoa powder and some cinnamon to the smoothie.
Green Smoothie With Lime And Kiwi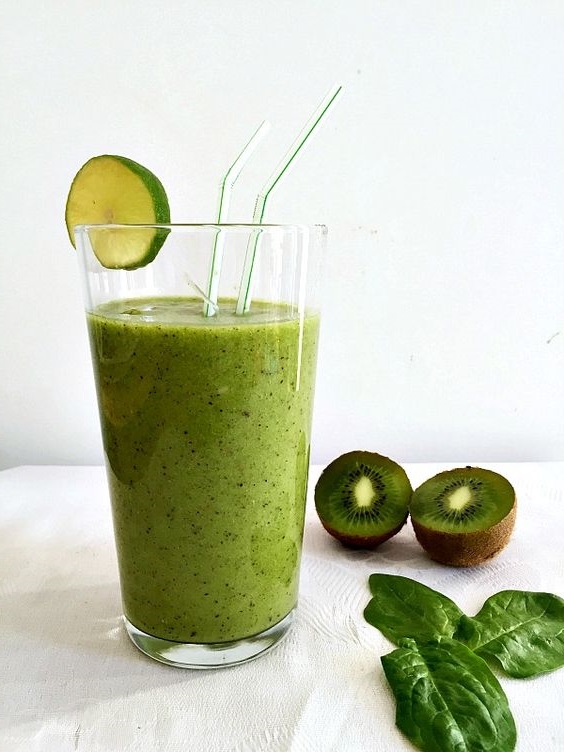 To get energized for the day and run all the important metabolic processes for weight loss will help smoothie based on green tea and fruit, rich in vitamin C.
To make it you will need:
a half a green apple
one peeled kiwi
250 ml of iced tea
the juice of half a lime
Whisk all the ingredients in a blender and enjoy a refreshing cocktail.
Berry And Citrus Smoothie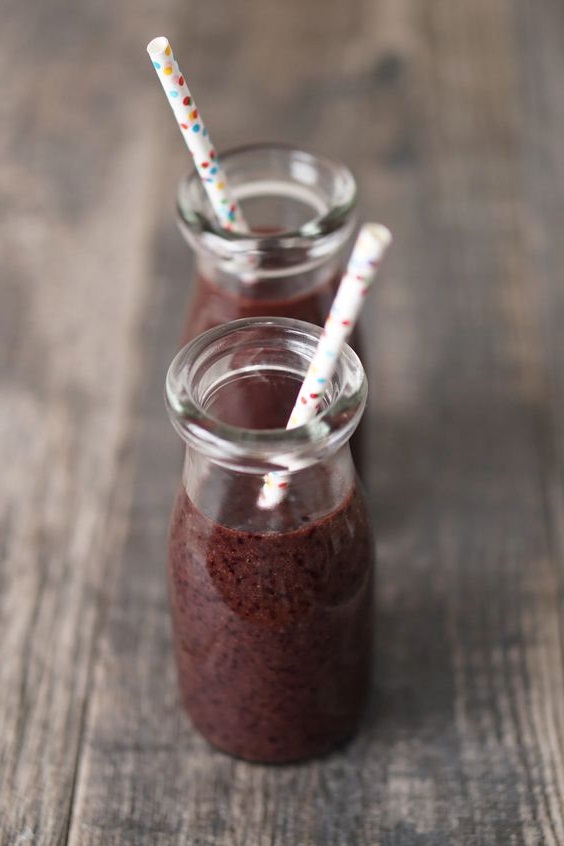 Raspberry, strawberry, grapefruit and orange smoothie turns out bright, fragrant and incredibly useful – vitamin C, which is rich in these fruits and berries, cleanses the body of toxins and promotes weight loss.
To make it you will need:
100 grams of raspberries
100 grams of strawberries
a quarter of a grapefruit flesh
a quarter of an orange flesh
100 ml of still mineral water
To prepare this invigorating smoothie, use a blender and mix all ingredients.
And if you want to make the smoothie more nutritious, replace the water with natural yogurt.
Cucumber And Avocado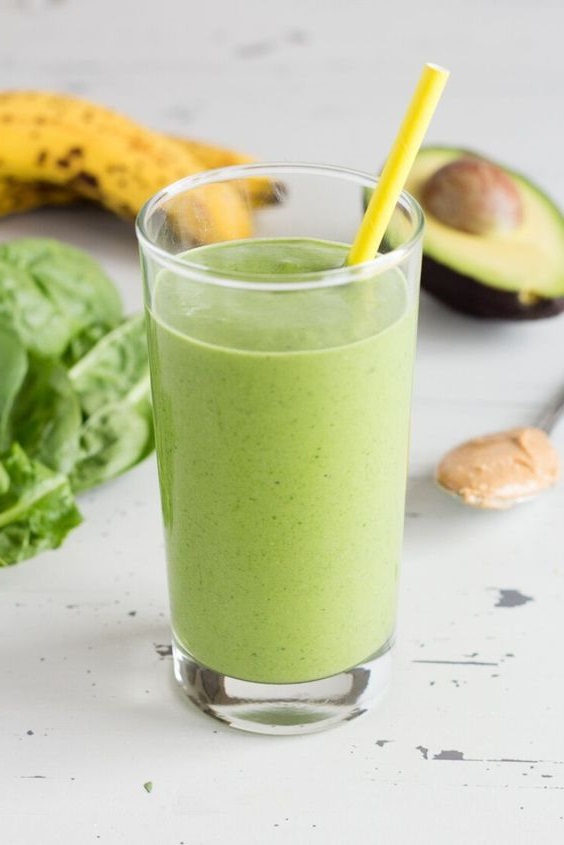 All the ingredients in this green smoothie accelerate the metabolism and are rich in nutrients that give a feeling of fullness for a long time, so it helps to lose weight.
To make it you will need:
half a green apple
half a cucumber
half an avocado
one kiwi
200 ml of any vegetable milk
Blend all the components with a blender – an easy and delicious salad in a glass is ready!
Banana Lime Smoothie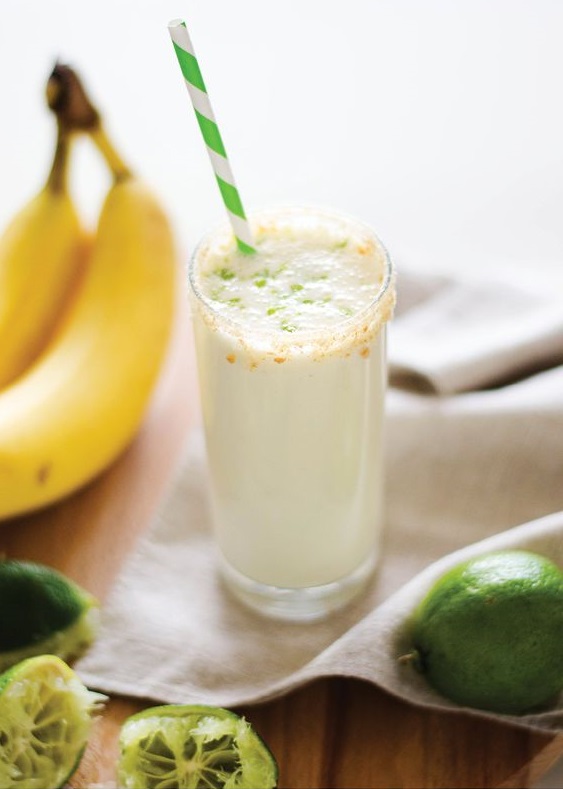 Fruit smoothies not only look beautiful, but also saturate the body with vitamins and useful micronutrients. They are also very tasty and low in calories! One such diet smoothie is a smoothie with banana and lime.
To make it you will need:
one banana
150 ml of low-fat yogurt
2-3 tablespoons of lime juice
one kiwi
a pinch of vanilla
Blend all the components together.
Such a drink strengthens the immune system, improves the digestive system, promotes the recovery of muscle tissue and weight loss.
Smoothie With Kale And Raspberries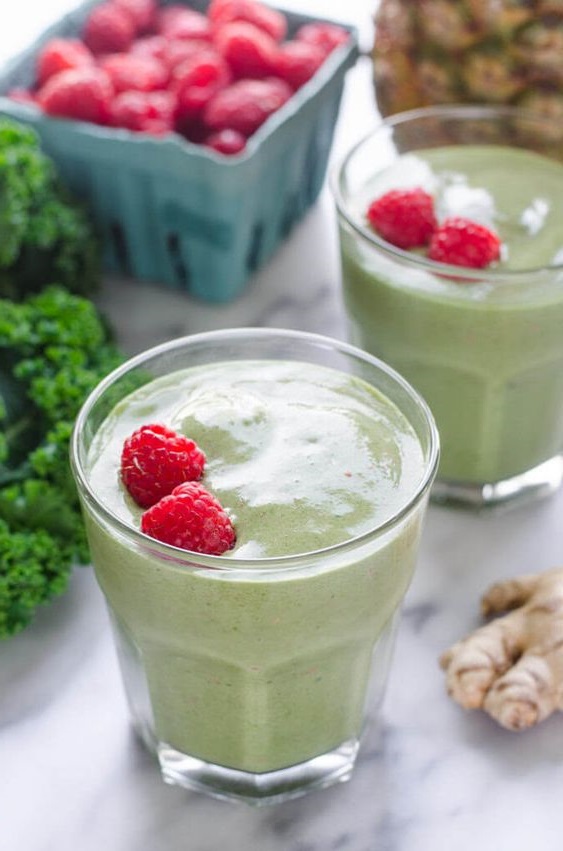 Today you can diversify your diet not only with the usual healthy products, but also with trendy superfoods, many of which are easy to find in regular supermarkets. One of these superfoods is kale, which is rich in vitamins K, A and Omega-3, thanks to which this greens revitalizes the body and triggers all its renewal processes.
To make it you will need:
100 grams of kale
a ripe banana
a cup of raspberries (200 grams)
120 ml of natural yogurt
Blend all the components together.
The banana can be chopped into pieces beforehand and frozen – then the cocktail will be cool and refreshing.
Celery, Grapefruit And Pineapple Smoothie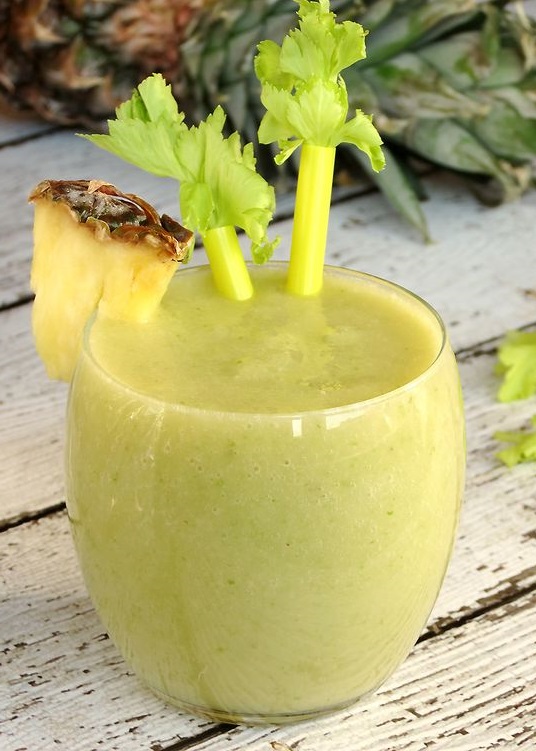 Probably every woman who at least once in her life went on a diet knows about the benefits of grapefruit, celery and pineapple. And if you combine these fat-burning products in one cocktail, you get a drink that is rich in fiber, well toned, removes excess fluid from the body, as well as successfully fights cellulite and breaks down fat.
To make it you will need:
two grapefruits
two stalks of celery
two slices (100 g) of pineapple
a tablespoon of honey
To prepare it, simply whisk these components, – the vitamin drink for weight loss is ready!
Pumpkin, Apricots, Orange Smoothie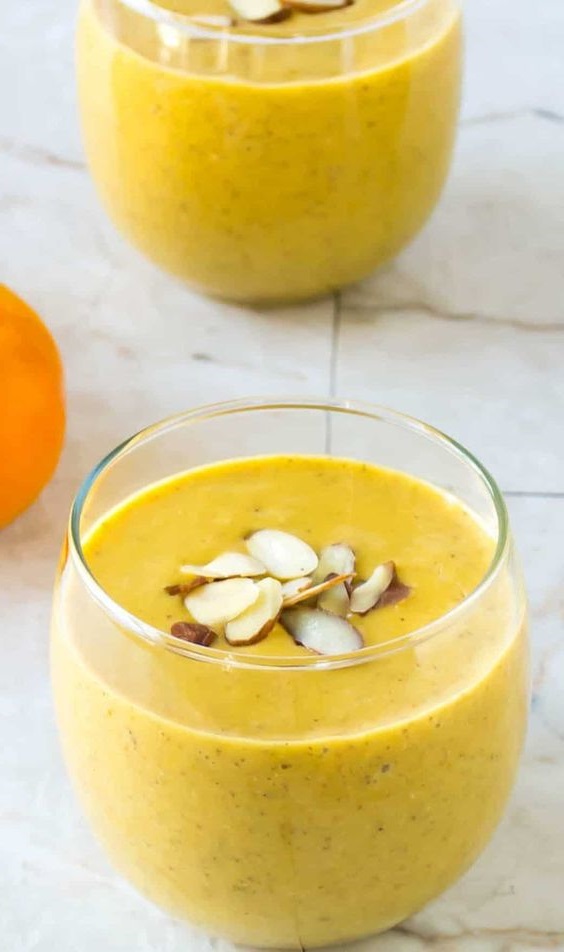 The orange smoothie is a godsend for those who want to cleanse their bodies a little and take care of their figure! It's also a very tasty drink.
To make it you will need:
fresh pumpkin pulp – 300 grams
2 oranges
4-5 pieces of apricots
½ tablespoon of flower honey
Chop the pumpkin flesh into cubes or julienne. Peel the oranges and free from the membranes. Pre-soften apricots by pouring warm water (30 minutes). When all the components are ready, send them in a blender and add ½ spoon of natural flower honey. Turn the products into a puree. Done!
This great drink can be drunk slightly chilled or immediately after preparation. This is a great version of a smoothie that will help cleanse the body and lose weight!
Oatmeal Smoothie For Quick Weight Loss And Reliable Cleansing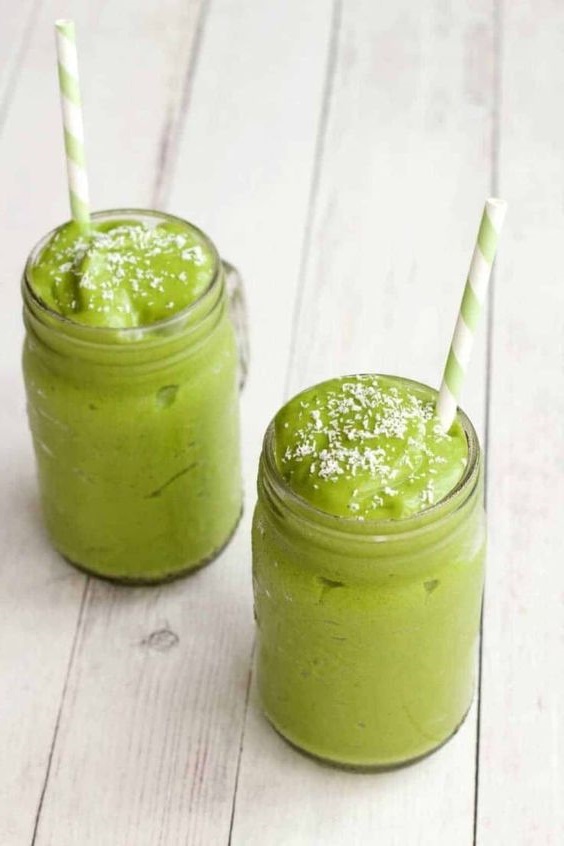 This drink is a real "brush" for the intestines and the body! And it also helps to lose extra pounds and improve the health of the body as a whole.
To make it you will need:
instant oat flakes – 65 grams
green tea – 100 grams
kiwi – 3 pieces
Soak oat flakes in green tea and leave for 10 minutes. During this time, peel the kiwi and cut into cubes. All ingredients are sent to the bowl / cup blender and grind into a homogeneous mass. Smoothie to cleanse the body and lose weight is ready! When serving, you can garnish the drink with a small amount of oat flakes and a sprig of mint. It is recommended to drink this smoothie in the morning or in the evening 2-3 times a week, alternating with other variants of useful dishes.
Smoothie With Pineapple, Peach And Grapefruit Pulp
This sweet and refreshing drink will delight you with its taste and bring the body undoubted benefit! It can be drunk to correct your figure, because it contains grapefruit. And it is known to burn fat. Also the combination of products is aimed at the gentle removal of excess fluid and harmful substances from the body.
To make it you will need:
2 whole grapefruits
2 slices of ripe fresh pineapple
1 tablespoon of natural honey
the pulp of one peach
Peel the citrus fruit from the peel and carefully free from all the white septa. This is mandatory, as the thin skin contains substances that give bitterness. Pineapple is peeled and cut into slices (100 grams). Scald peaches with boiling water and remove the skin. Remove the seeds. Dice all the fruit. Send the components in a blender, add honey. Turn the mass into a puree. Done!
Spinach And Apple Green Cleansing Drink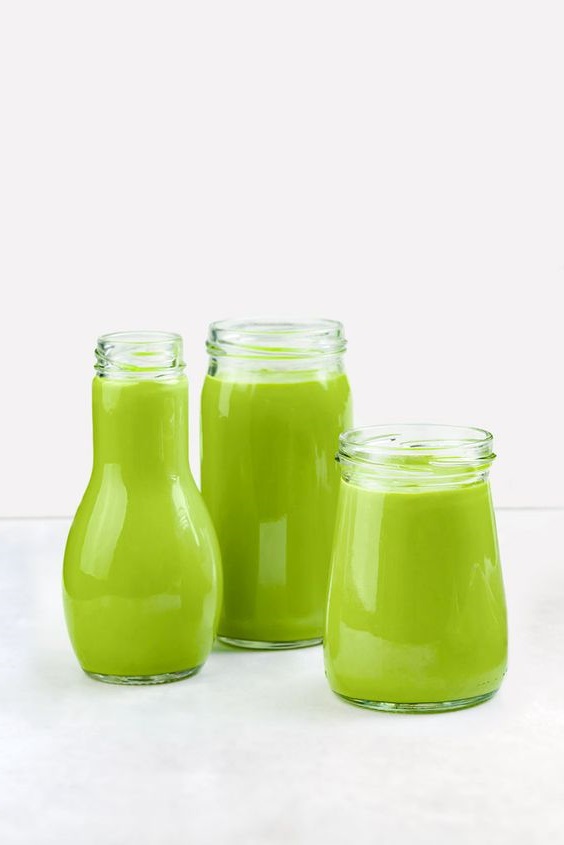 This smoothie is very tasty and healthy! You can drink it at least every day. But, of course, it is realistic to add this version of the cleansing mix to the diet 1-2 times a week.
To make it you will need:
spinach – 100 grams
1 large green apple
2 sprigs of fresh mint
2 tablespoons of water
Wash spinach and scald with boiling water. Tear leaves into small pieces. Peel the apple. It is not necessary if the skin is thin. Dice the flesh of the apple. Put all the ingredients in the bowl of a blender, add the mint and water. All thoroughly grind until puree. If you want to serve this, you can prepare it with 2 to 3 ice cubes. This is optional! And it is suitable for making a cooling summer drink. Smoothie with spinach and apple gently cleanses and nourishes the body with vitamins.
Sunny Pineapple And Kiwi Smoothie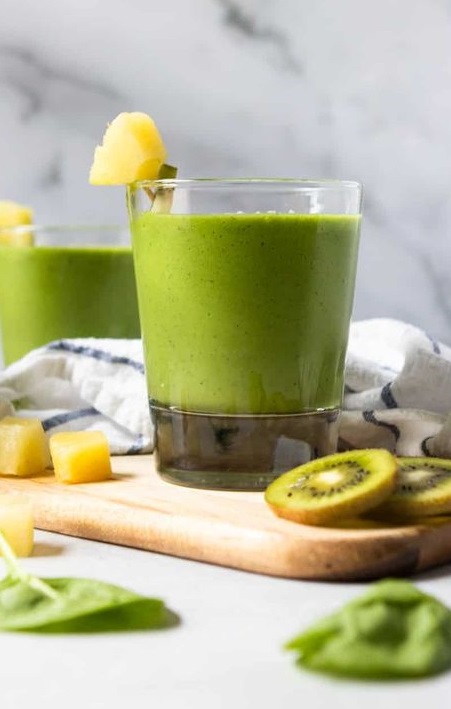 This drink invigorates with its refreshing taste and also acts on the body as a mild cleanser. The pineapple pulp promotes weight loss. Kiwi and cucumber removes excess moisture from tissues.
To make it you will need:
kiwi – 2 pieces
pineapple – 1 slice (50 grams)
cucumber – 1 medium
fresh lemon juice of ½ fruit
Separate the kiwi, pineapple, cucumber from the skin. Divide the pulp into small slices. Squeeze out the juice of a lemon. Put all the components in the bowl of a blender and grind to a homogeneous puree. Serve the drink slightly chilled. You can decorate the composition with a sprig of mint and a slice of lemon. This version of the weight-loss cleanser is worth to drink 1-2 times a week. If you have an allergy to citrus fruits, the lemon can be replaced with plain purified water.
Tomato Smoothie With Carrots And Apple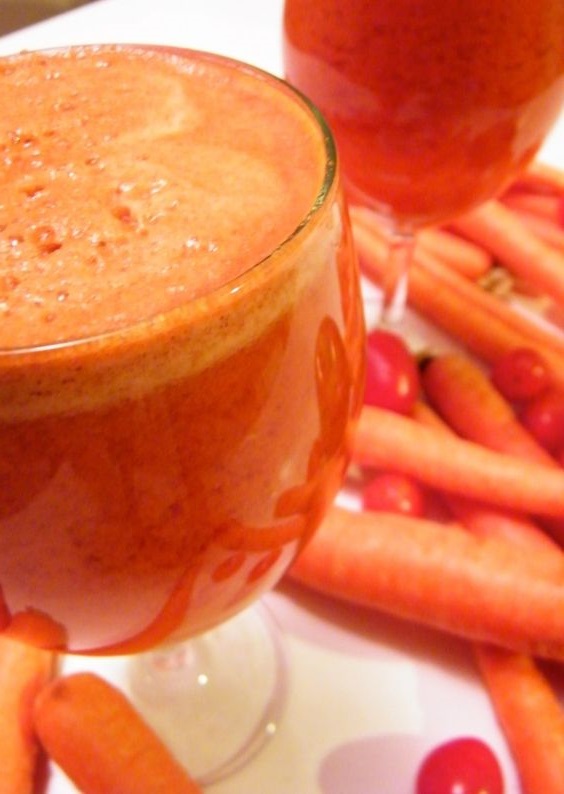 This version of the drink not only cleanses and promotes weight loss, but also has a beneficial effect on the gastrointestinal tract, helps improve blood quality.
To make it you will need:
3 medium tomatoes
1 medium carrot
1 medium apple
½ teaspoon of olive oil
Scald tomatoes with boiling water and remove the skin. Peel carrots and cut into fine julienne. Do the same with the apple. Put the ingredients in a blender and finely chop them until smooth. Add olive oil and blend it once more. It's ready! This flavorful, nutritious smoothie can be a wonderful option for a snack, or it can be drunk before bedtime. The composition of the drink stimulates the intestines and charges the body with useful substances, vitamins.
Strawberry And Banana Pleasure – A Cleansing And Nourishing Smoothie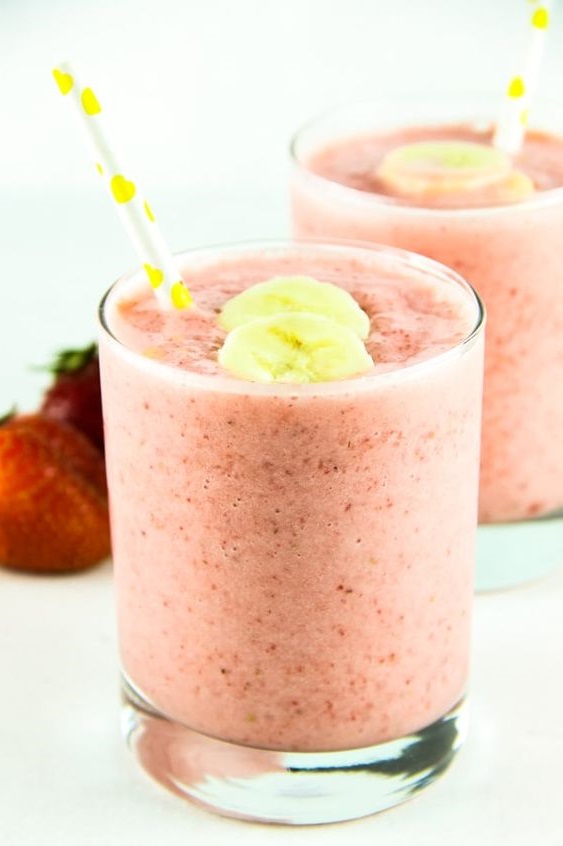 A strawberry, creamy yogurt and banana smoothie is a classic! And this product promotes a gentle, gentle cleansing of the body. Also, strawberries promote blood renewal. The banana is satiating, but it doesn't form the ground for weight gain.
To make it you will need:
bananas – 1/2 piece
strawberries – 5 berries
natural creamy yogurt – 100 grams
Peel the banana and mash with a fork. Wash the berries and remove the stalks and leaves. Put them all in a blender and pour out the yogurt. Whisk until smooth. This version of the drink is very nutritious and delicate. Suitable for breakfast, dinner and even lunch. You can drink it 1-2 times a week, if you are not allergic to strawberries.
The "Brush" Smoothie For Cleansing And Weight Loss
This remedy is suitable for colon cleansing, skin rejuvenation, health promotion. All components for the preparation of the drink are taken in raw form.
To make it you will need:
beets – ½ medium fruit
white cabbage – 50 grams
carrots – ½ medium
water – 50 grams
olive oil – 1 drop
lemon juice – 1 drop
Peel and chop the vegetables. Add the ingredients in a blender. Add water, oil and juice. Blend until smooth. If the smoothie is too rich and thick, add water to the desired consistency. This drink is worth drinking in the morning or in the evening. The remedy causes a pronounced laxative effect. Therefore, you should use with caution, first paying attention to contraindications.
Oat Smoothie With Prunes And Apricots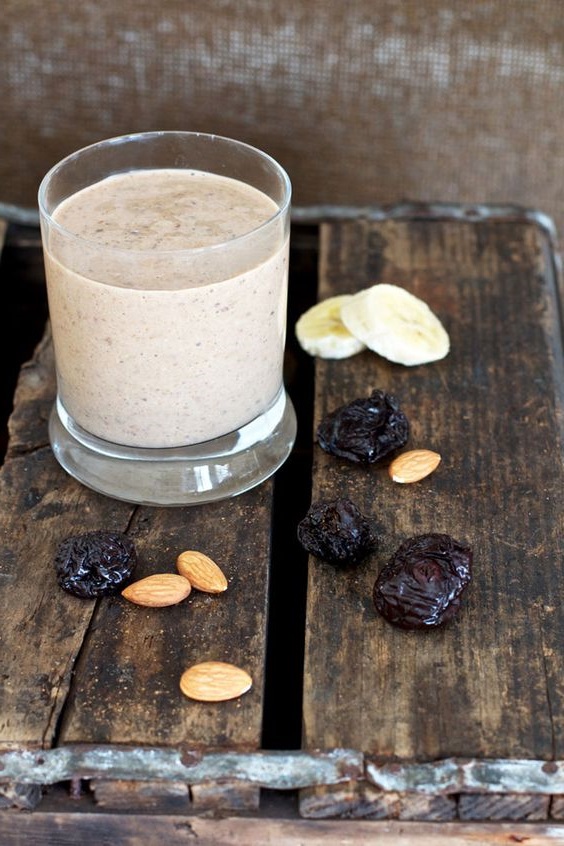 This drink will gently cleanse your body of all unnecessary things. Also oatmeal smoothie will charge with vitamins and give satiety.
To make it you will need:
oat flakes – 2 tablespoons
apricots – 3 pieces
prunes – 3 pieces
creamy natural yogurt – 100 grams
If you have "quick" oatmeal, soak it in yogurt for 1 hour. If it is herringbone flakes, you will have to soak it for 5-10 hours. Wash the dried fruits and soak them in boiling water for 30-40 minutes. Send the prepared products to the bowl of a blender and grind until smooth. For decoration you can add crushed walnuts, mint or cocoa powder.
Berries + Tea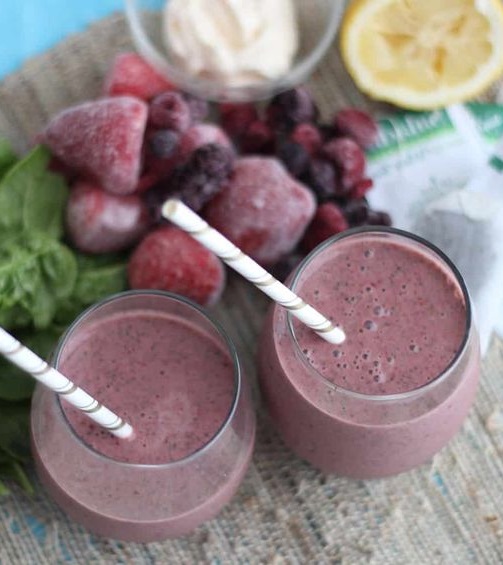 To make it you will need:
1 cup frozen cherries
1 cup fresh strawberries
1 cup currants or raspberries (can be frozen)
½ apple or pear
120 ml of brewed and chilled rooibos tea
Blend all ingredients in a blender until smooth.
Mango Breakfast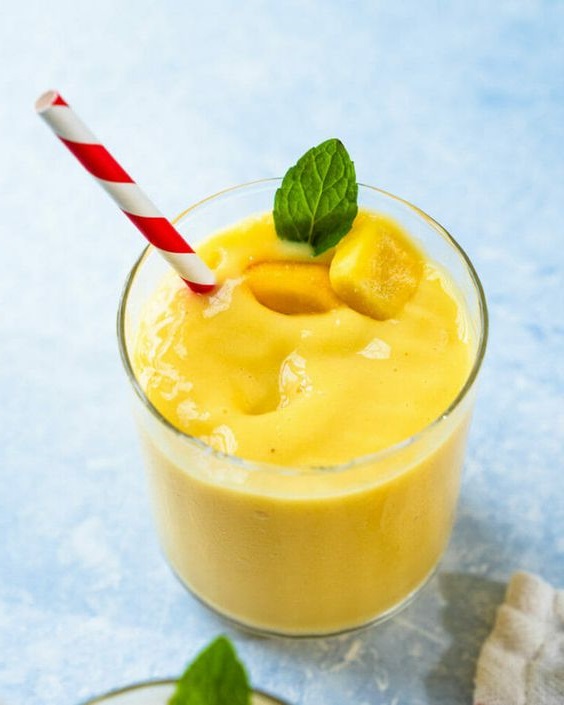 To make it you will need:
1 mango, peel and chop pulp
½ cup nonfat yogurt
1 tbsp. lime juice
1 tbsp. lime juichoney to taste
ice if desired
Blend all ingredients in a blender until smooth.
Strawberry and Tofu Smoothie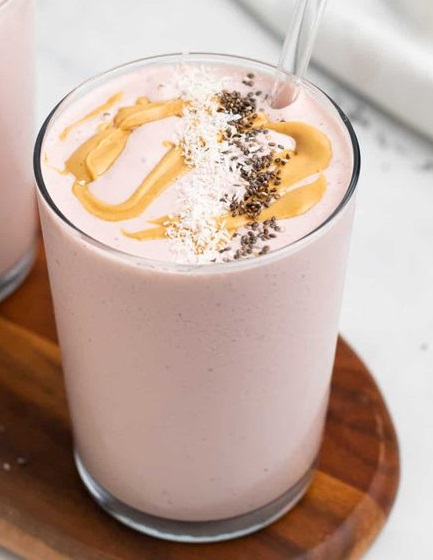 To make it you will need:
2 cups fresh strawberries
30-40 grams of tofu
1 small apple or ½ cup apple juice
Blend all ingredients in a blender until smooth.
Apple Smoothie With Orange, Banana And Cranberries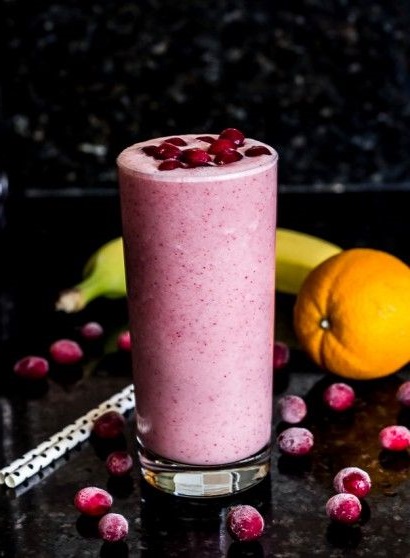 Smoothie helps to eliminate excess fluid from the body, improves digestive function, promotes weight loss, tones.
To make it you will need:
banana – 1 large piece
apples – 2 units
orange – 1/2 piece
cranberry – 50 gr
Before the direct preparation of a smoothie for weight loss, all the fruit should be placed in the refrigerator so that the drink will be cool. Apples peeled from the skin and seeds should be chopped into small pieces. Bananas can be cut into rings. Oranges should be removed from the white film and remove the pips. Pre-wash and dry the cranberries. Blend all the fruit and berries in a blender on maximum speed. Pour the fruit smoothie into a glass or a flute, you can garnish with cranberries.
Smoothie With Lemon, Melon And Mint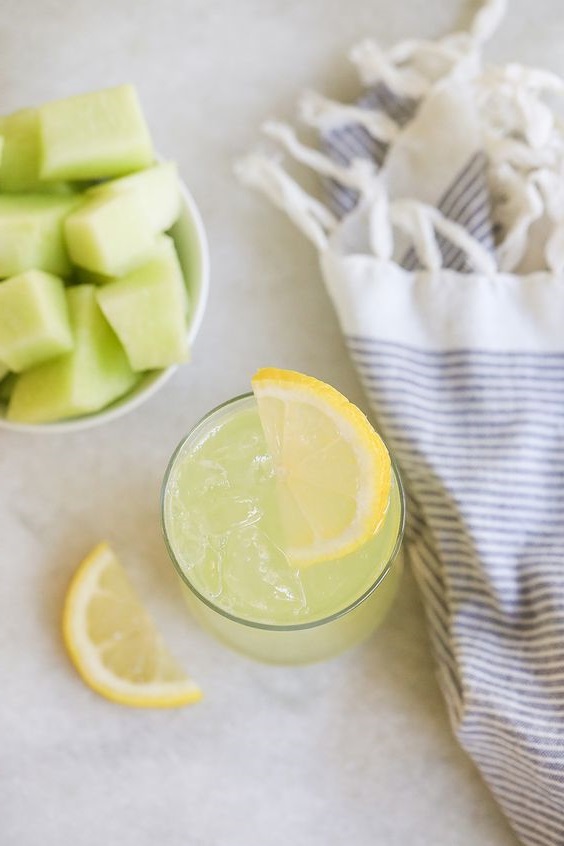 Strengthens the cardiovascular system, has a rejuvenating effect on the body, improves mood.
To make it you will need:
melon pulp – 250 g
lime – 1/4 part
lemon – 1/2 part
honey – 5 gr
mint – 2 sprigs
ice cubes
Wash melon and citrus fruits with cool water, free the melon from seeds, cut the pulp into small pieces. Pre-cool the ripe fruit in the freezer. Remove the seeds from the lime and lemon and peel the flesh from the white membranes. Place all the products in the bowl of a blender, add honey. Shake off the remaining water from the rinsed mint leaves and add to the rest of the ingredients. Whisk on full power until the mixture becomes puffy and homogeneous. Pour the drink into glasses, add ice, and garnish with the lemon and mint. The listed ingredients make 2 servings.
Smoothie With Bananas And Red Oranges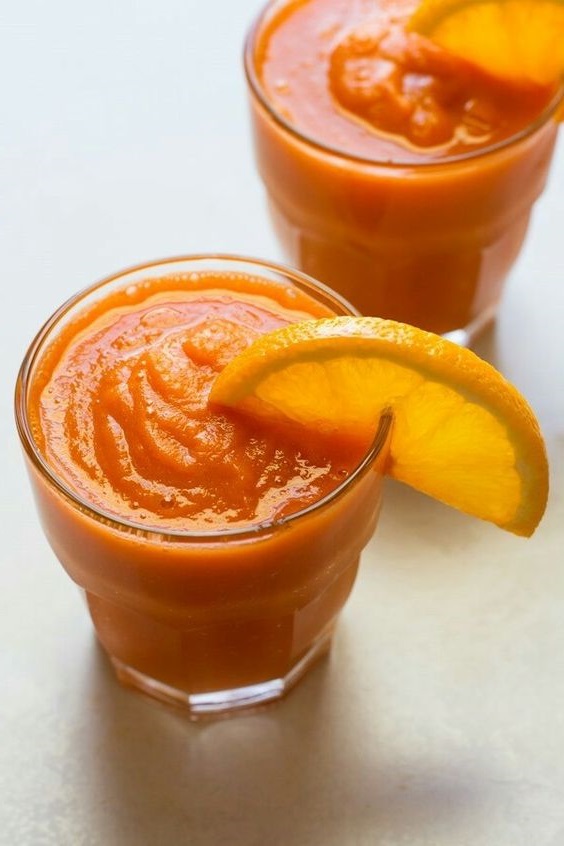 Helps overcome depression, normalizes blood sugar levels, and protects against liver disease.
To make it you will need:
red oranges – 2 pieces
banana – 1 piece
orange juice – 50 ml
sweetener or honey – to taste
Peeled bananas you need to break into several pieces. Peel and cut the oranges into rings, remove pips with a knife or fork. Beat the fruit in a blender, add orange juice, whip all the ingredients for two minutes. Pour the ready fruit smoothie into a glass, for decoration you can use an orange ring. The above amount of ingredients makes 1 serving.
Cranberry Smoothie
Contains a large number of useful substances, does not cause heaviness in the stomach, regulates the activity of the hormonal system.
To make it you will need:
cranberry syrup – 200 ml
apple juice – 200 ml
bananas – 1 piece
sugar free yogurt – 100 ml
ground cinnamon – to taste
To prepare the drink, pour apple juice and cranberry syrup in a blender. Peel bananas and cut them into pieces, add them to the bowl. Whip all the ingredients to the consistency of puree. Pour the yogurt into the resulting mass, throw the spice and re-blend. Serve smoothies in big glasses, decorate according to your taste. In the output you get 3 servings.
Smoothie With Peaches And Jasmine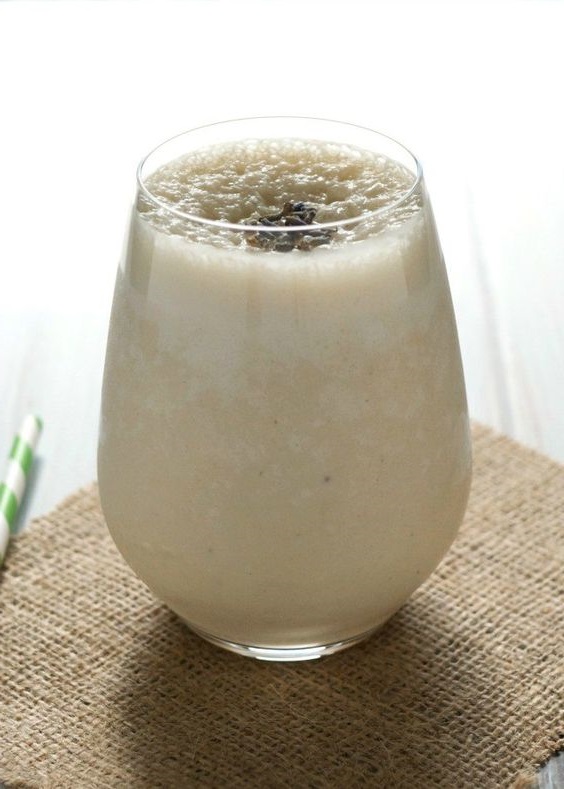 Improves digestion, strengthens the immune system, tones up as good as natural coffee and does not increase blood pressure.
To make it you will need:
jasmine – 15 g
water – 70 ml
kefir – 200 ml
bananas – ½ part
peach or nectarine – ½ part
honey – 10 gr
Initially, you need to brew jasmine tea using the specified amount of water for 10 minutes. Peel the bananas from the skin, cut into slices. Wash peaches, remove the skin, remove pips. Put the fruit, tea and kefir in a blender container, whip all the ingredients until smooth. As a sweetener you should add honey, after which you need to whip everything again. Smoothie for weight loss is desirable to serve in glasses, decorate to your own taste. The specified amount of ingredients is enough for the preparation of 2 servings.
Prune And Pineapple Smoothie
This smoothie has anti-inflammatory properties, helps maintain water-salt balance, reduces blood pressure.
To make it you will need:
prunes – 2 pieces
pineapple – 230 gr
The prunes should be poured with warm water and left in the refrigerator overnight. If it is not possible to prepare the ingredient in advance, dried berries should be cut into several pieces, placed in a small bowl and scalded with boiling water. It will take about 15 minutes to saturate them with moisture.
A cut piece of pineapple should be peeled from the skin and hard part from the middle, the pulp should be cut into slices. Transfer the prunes and pineapple to the container of a blender. Pour the crushed homogeneous mass into a glass, you can decorate it with pieces of fruit or berries when serving. From the components you get 1 drink.
Broccoli Smoothie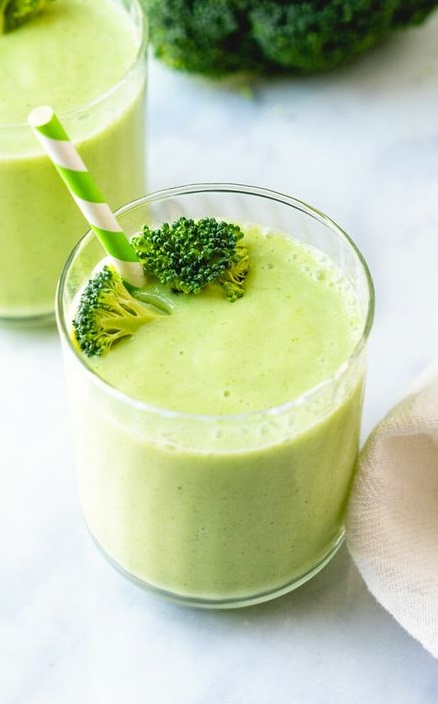 Replenishes the lack of minerals and vitamins in the body, satisfies hunger after exercise at the gym, cleanses the intestines of toxins.
To make it you will need:
broccoli – 50 g;
kiwi – 2 pieces;
green tea – ½ cup;
Flax seeds – ½ tsp.
Brewed green tea should infuse for 10 minutes at room temperature, then it should be left in the refrigerator to cool. Broccoli, either fresh or frozen, can be used to make a smoothie. The broccoli needs to be broken into florets and the kiwi needs to be peeled. The chopped kiwi slices and broccoli florets should be chopped in a blender.
Strain the green tea through a sieve and pour it into a bowl with the rest of the ingredients. The finished smoothie can be poured into a glass and sprinkled with flax seeds. The specified amount of products is enough to prepare 1 serving of smoothie.
Smoothie With Tomatoes And Bell Peppers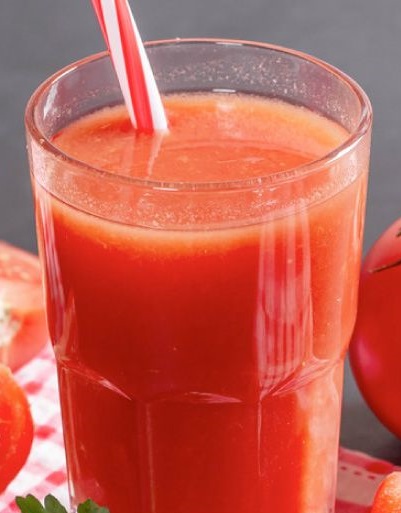 To make it you will need:
tomatoes – 5 pieces
sweet bell pepper – 1 piece
lemon juice – 10 ml
olive oil – 10 ml
spices, rosemary, dill – to taste
Greens and vegetables should be thoroughly washed under running water. To peel the tomatoes, you need to put them in a container with boiling water for 5 minutes. The pulp of peppers, separated from seeds and membranes, should be cut into small pieces. In a blender container you need to put chopped vegetables, if desired – add chopped dill and rosemary. Then you should pour the remaining ingredients – citrus juice, olive oil, pepper and salt to taste. The resulting 1 portion of a smoothie for weight loss can be poured into a glass. Mineral water and ice cubes are suitable for diluting the thick drink.