Members of the international curly community are well aware of the truth – every curly head is unique in its own way. Yes, for convenience, hair is classified according to the shape and firmness of the curl, but even within the same type, curls can behave quite differently. Everything matters: hair thickness, density, porosity, ethnic and national characteristics, genetics, environment, and individual response to humidity.
In general, you will not be bored, especially since curly hair is known for its fickle nature – you never know how it will behave tomorrow.
However, curly and curly hair have common features. First of all it is dryness. The thing is that the natural protection, which is provided by the scalp sebum, can't be distributed along the entire length of the hair and is spent at the beginning of the curl. The steeper the curl, the drier the hair.
The combinations of these characteristics are countless, which is why picking up curly hair care is a real challenge. Even recommendations of products from reputable bloggers with hair that is similar in every way can end up being a failure or, conversely, a dream product.
Types of curly hair
There is a generally accepted classification according to which hair is divided into four types according to the shape and expression of curls. Each class has subspecies, determined by the elasticity and diameter of the curl – a, b and c.
The first type is perfectly straight hair, and we are not interested in it now.
Curly Hair type 2.
a) A barely pronounced wave.
(b) Slightly more noticeable waves.
(c) Curls in the shape of an S.
Wavy hair has poor hold after styling and is frizzy, whether you straighten it with a flat iron or curl it. Curly hair often lacks volume at the roots and leaves the ends feeling dry. Moisturizing is a must in your hair care regimen, with more moisturizers and less oil. It is better to style with fixing mousses and foams.
Hair type 3.
a) Coarse ringlets.
(b) Spiral curls.
(c) Tight spirals.
Curly or frizzy hair (both definitions are correct for this type), because of the spiral shape and volume, gives the impression of being thick, even if there is not much hair and it is thin. Obviously it tangles a lot, and brushing it is quite an ordeal. The key is to avoid frizz and keep the curl. How can this be done? Moisturize and nourish with products with light oils, styling with either gel or a product with the texture of cream or milk (if hair is thick).
Hair type 4.
a) Multiple tightly curled wires.
(b) Curls-zigzags.
(c) Very tight short zigzag curls.
This is very curly or frizzy hair, usually of the Afrotype. They are very dry, often porous, brittle, and require extra moisturizing and lots and lots of oils in their care.
Curly Hair Care at Home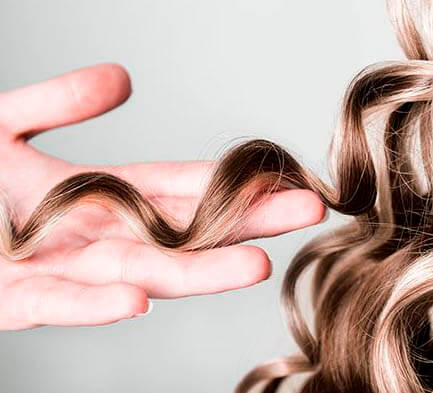 Curly hair care at home is based on the rules of the so-called Curly Girl Method. It was written by Lorraine Massey, the author of the bestseller Curly Girl: Hand Book, the hand book of curly girls.
The main point of this method is to exclude tools and products from the care that can damage the hair, provoke or aggravate dryness and brittleness. In short, do not prevent the hair to curl, and help them do it beautifully, as nature intended.
And now let's take it in order. How to properly care for curly hair?
Shampoos
Law number one for curly hair in girls: use mild shampoos, such as sulfate-free.You can wash your head often, But in this case, it is recommended to practice cowashing – washing your head with conditioner, which will remove surface dirt, wash away styling products, refresh. But it makes sense to alternate with a full scalp wash, for example, once a week, to clean the scalp well.
Balms and conditioners
Rule number two is no to silicones. It is believed that they can be too heavy for natural curly hair, and in the long run provoke dryness. In addition, removing them involves the use of a sulfated shampoo. Neither in styling products nor in balms the presence of silicones is highly undesirable. So look for hydrates and oils in conditioners, and on a bottle a note "without silicones". Apply conditioner for a couple of minutes every time after shampooing.
Mask
Curls should receive intensive care once or twice a week. If porosity is high, alternate between a moisturizing mask and a protein mask.
Leave-in Conditioner
Leave-in Conditioner, also known as leave-in conditioner or leave-in care, helps detangle hair, smooth its surface, retain moisture and ensure quality styling. However, some curly girls don't need styling after using leave-in conditioner.
Tips and tricks for girls of varying degrees of curl
In this paragraph, we'll give you a dozen more smart tips on what to do and what not to do with curly hair to make them feel good.
Apply shampoo only to your scalp and conditioner only to your hair.
After you've used conditioner, brush hair when it's wet with a fine-toothed comb to prevent hair breakage.
Apply leave-in conditioner as well as gel and styling products not to dry hair, but to wet or even damp hair (some do it right in the shower) – water helps hair to curl, and styling products will immediately lock it in place.
Apply styling product in a head-down position and then squeeze/gather strands in handfuls, moving toward the roots until curls form.
Forget the terry towel – replace it with a smooth microfiber towel or a regular cotton T-shirt. You'll feel the difference.
When drying with a hair dryer, set the temperature as low as possible – curls can't handle high temperatures well. Immerse them in a diffuser bowl so that they do not lose their shape as they dry. But natural air drying is always preferable.
Don't touch your hair until it's about 80-90 percent dry-otherwise all the work will go to waste and you'll have to start all over again.
If your curls are stiff after styling with gel and drying, "shake" them again – they'll become soft, retaining their elasticity.
Haircut
The right haircut will eliminate the need for long hair styling in the morning. A professional hairdresser can help. It's not that easy to get rid of the frizz and get a creative haircut, so it's not worth skimping on a visit to a beauty salon.
The optimal option – half-long or long strands. Cascade, asymmetry, bob, square bangs – there are almost no restrictions on the choice. A good master will choose a haircut, taking into account the shape of your face and the condition of your hair. You should visit your hairdresser regularly (about once in 2-3 months) for the correction of hairstyles, so that your hair would look well-groomed and the ends would not split.
Knowing the peculiarities and problems of curly hair, it is much easier to take care of it – it is enough to choose good products.