Making a protective hairstyle without a weave for short hair is a difficult but solvable task. Below you will find a few tips that will allow owners of short hair to quickly make different versions of protective hairstyles.
Parting your hair is an important step. This will make it easier to work with them. Divide your hair into multiple strands. Twist into a flagellum and stab at the back of the head one by one. Another way is to split the hair into a top and bottom section. Braid each with a scythe and connect in the middle. This will create a visually seamless braid.
Check out other protective hairstyles for short hair. They have a step with weaving, but you can easily cope with it or replace it with twisting strands.
Short hair waterfall
To create this chic style, you will need a fine comb and an elastic band to match your hair color.
Carefully comb the head with a comb.
We curl them with tongs, an iron, or create curls using a hair dryer with a round nozzle (diffuser). On curly strands, the waterfall looks more impressive.
Separate a thin strand of hair at the temporal part and divide it into three equal parts.
We start weaving a regular braid.
After a few centimeters, we begin to form the waterfall – we leave the upper strand at the bottom, replacing it with new hair located below.
We continue to braid the hair, letting go of one strand and picking up another. If desired, the waterfall can be braided from ear to ear, or you can bring the braiding only to the middle of the head and secure the braid with an elastic band or a beautiful hair clip. Alternatively, you can create two such pigtails towards each other by combining two waterfalls one.
Bundle + braid
Weaving braids for short hair provides a variety of options. Before you is the best combination of two fashion trends at once – a bundle and a braid.
We comb the hair with a comb and curl it into curls using a curling iron or an iron. This will make our weaving textured and lush.
Divide the hair into three equal parts.
From the middle we form a bundle in any way convenient for you.
We braid the side strands into two French braids in the direction from the forehead to the base of the bundle.
We tie the ends of the braids with thin elastic bands and fasten with a pair of invisible ones.
If you want to make your hairstyle a little messy, release a couple of thin curls from the braid.
Romantic "Crown" of hair
A versatile hairstyle that looks chic at work and on a date.
Scheme:
Divide the carefully combed strands into 2 parts, drawing a border in a circle with a comb. The length of the loose strands is 5 cm. From the rest of the hair, form a ponytail, which is tightly fixed with an elastic band.
Spread the strands from the tail evenly and lower it down.
Starting at the ear, weave the French braid in a circle. To disguise the parting, the pigtail is placed over it.
When styling a braid, constantly add hair from a ponytail.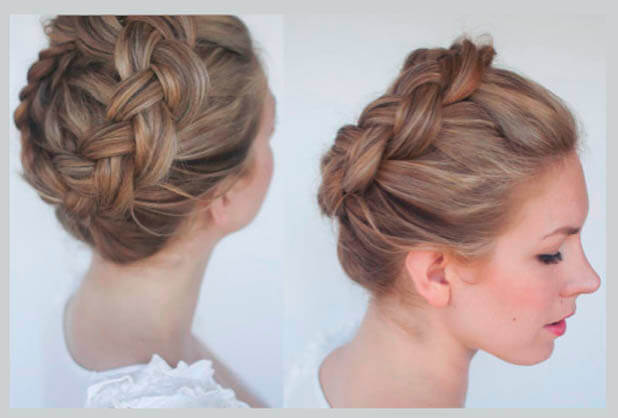 At the end of the work, put the strands into a traditional braid, secure it with an elastic band and hide it inside the "crown".
All these hairstyles are simple, but they will greatly diversify your image. A protective hairstyle is a great way to protect your hair from negative effects and give it time to recover.