Last year was an excellent opportunity to restore their skills in nail care. Some people re-learned how to do manicures at home, some chose long-playing designs, and the most creative even came up with the idea of gluing false nails over gloves. Because of such a variety of experiences future trends became so motley – below we'll tell you what trends, judging by the Instagram feed, will take over in 2021.
Multicolored manicure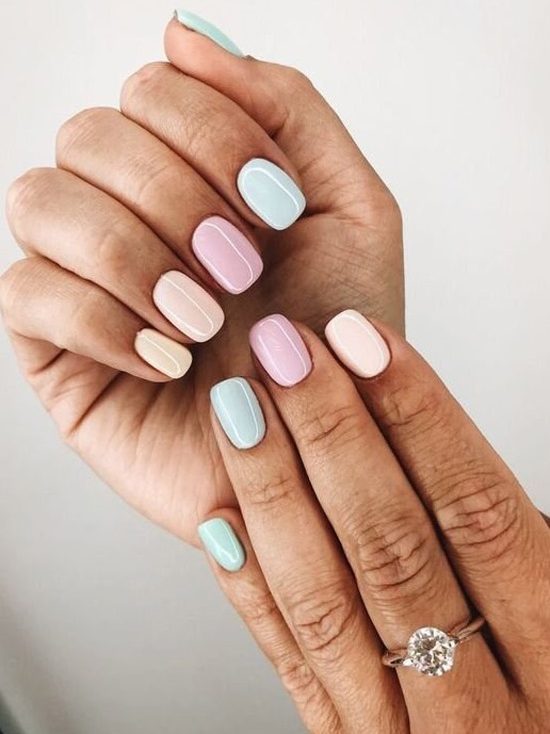 Those whose hands have been in the confinement of gloves for a long time want to try all the colors at once. We get it – although we don't advise saying goodbye to the accessory so quickly in public – the multicolored design is really a great example of how to quickly and easily draw attention to your nails. There are no strict rules here – contrasting colors will look just as good as a carefully chosen gradient. But if you still want to choose shades in one color scheme, follow the color wheel: it will be convenient if your master has varnishes arranged according to it.
Personal manifesto
With record high levels of stress, we had to find new ways to express ourselves. Many have discovered that nail art, like any other art form, can easily become a self-portrait. So, for example, a life motto, political stance, current mood or passion for astrology can easily be expressed in a design – a trend too good not to take into the new year.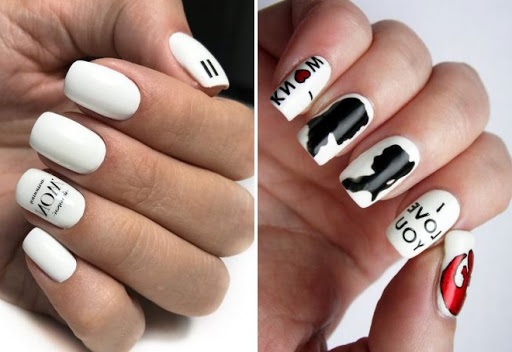 Minimalist manicure with sequins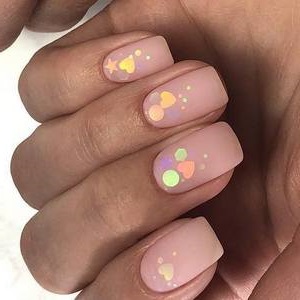 Dilute a neutral manicure with a small scattering of sequins or add a couple of rhinestones on a completely transparent coating – another flashback to the weekdays of quarantine, when salons were closed and everyone did only what they could on their nails. Today, laying out shimmering pieces along the tips of the nails can also your master, and the design will not become any less relevant.
Black and white accents
The black and white palette has always been in vogue, and now it has finally found a new breath. Subtle graphic lines and patterns have replaced monochrome black and white coverings. And monochrome in laconic or, on the contrary, complexly composed details make the design more catchy and contrasting.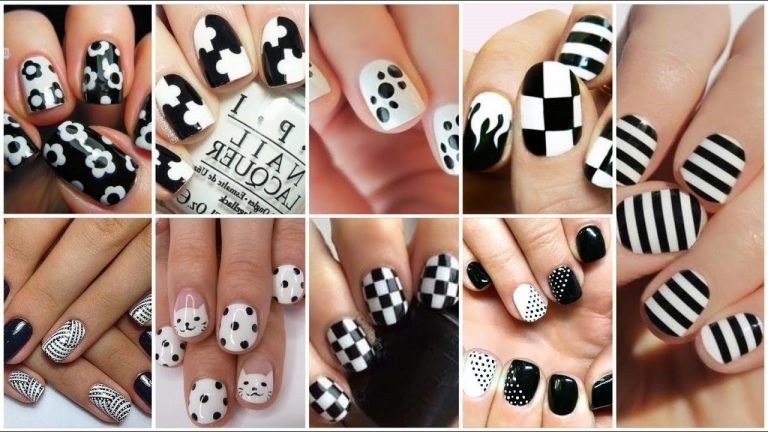 Neon
Neon polishes are an undeniable trend that has again burst into nail art to make your manicure brighter and bolder. Monochrome acid finish, colorful transition between shades and intricate designs in neon are great for both short and long extensions. The same goes for the shape.
Retrodesign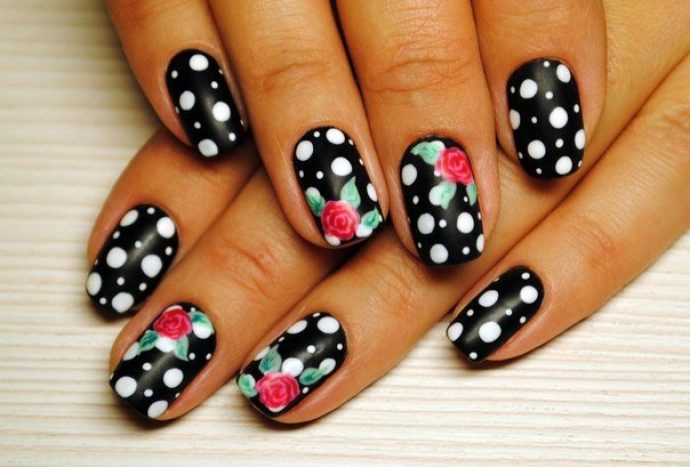 Nostalgia was also a key factor in 2020 for obvious reasons – judging by the accounts of leading manicurists, this will continue into 2021. Pay tribute to the aesthetics of the 1960s and 1970s with rich pearlescent polishes or remember the 1990s with colorful stickers and naive designs like Bella Hadid – you decide. The main thing is to find sources of inspiration from the past.
Metallic elements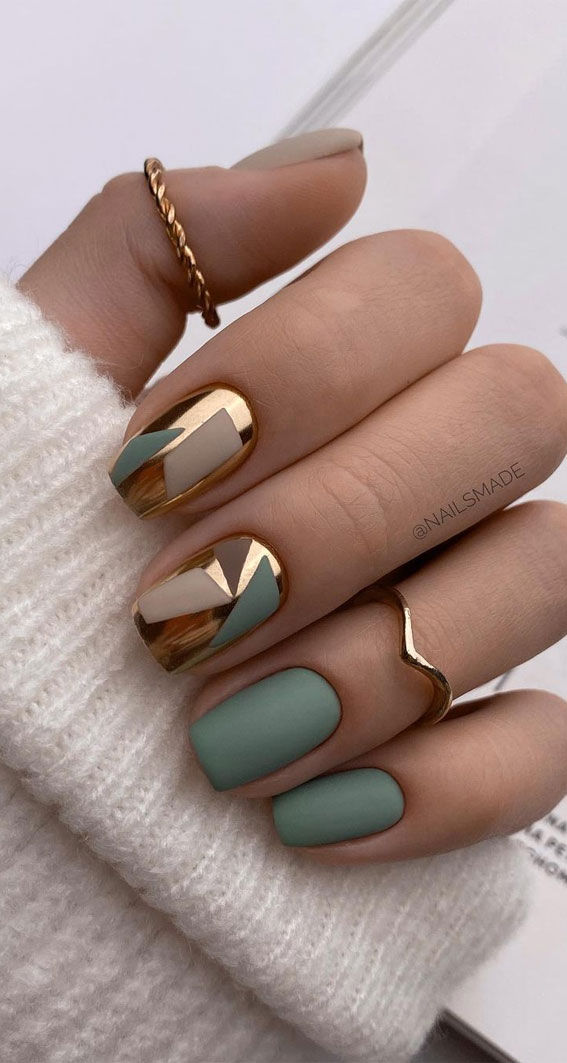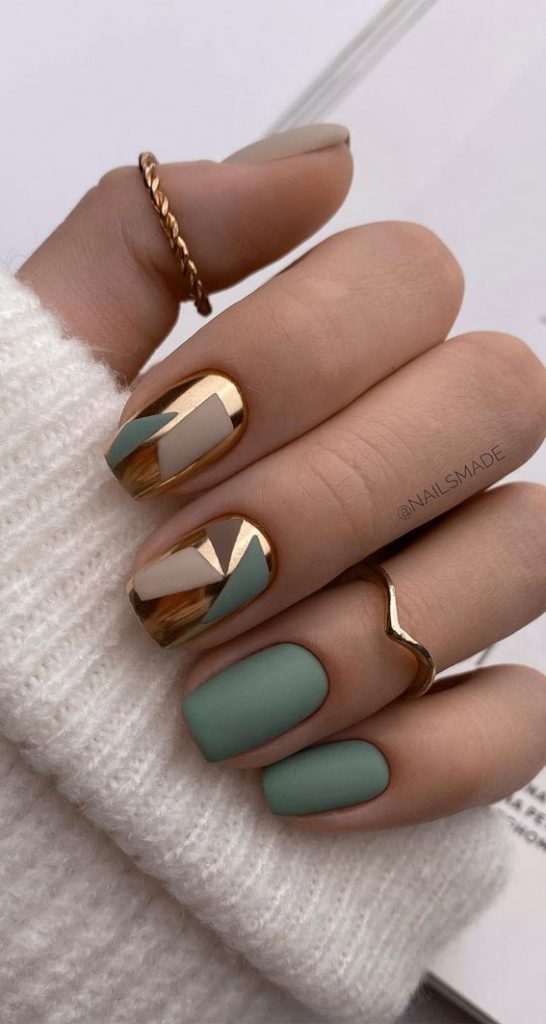 The white metallic bull, as a symbol of the New Year, pushes us in the direction of metallic. And rightly so – all the more so because the colors of precious metals on the nails are becoming more and more popular with each season. Gold and silver elements will give the design solemnity, even if the holidays are over. And it's also a great option for the manicure in the style of minimalism that many people love.
Muted pastel shades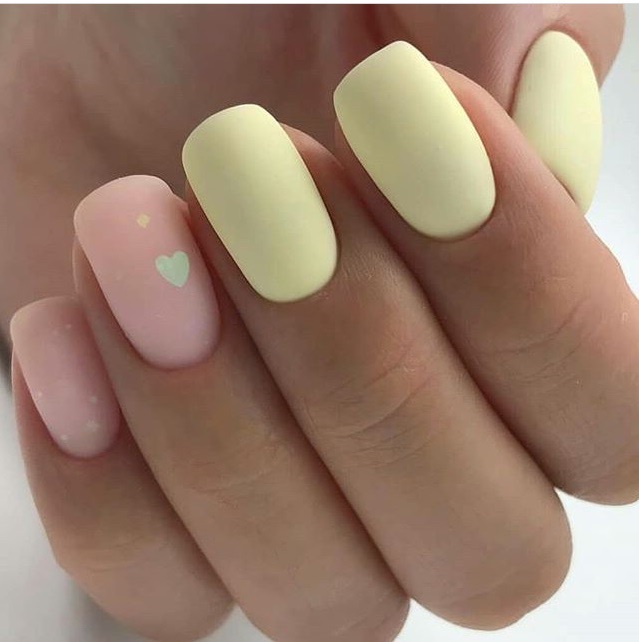 If a riot of colors is not your thing, then feel free to adopt the trend for nude colors. In this case it is not necessary time and again to choose the notorious beige: suitable option for a quiet design would be gray, turquoise, brown shades. If you decide to combine them, then adjust the brightness of all the tones to one muted level.
Flowers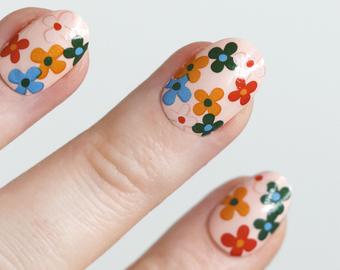 A floral print in any design will add femininity and will be relevant as a reminder of eternal summer. For a trendy look, take inspiration from minimalist children's drawings, Murakami's artwork or realistic herbarium images on Pinterest.
Blank Space
Nail art with empty spaces is and will continue to be in particular demand. There are several reasons for this. First, it makes the design more unusual, and second, it makes regrowth less noticeable, especially if you leave a blank space around the cuticle area. And in the end, this way you can easily monitor the condition of your nails, and you won't have any unpleasant surprises waiting for you after you remove the coating.
Transparent Coating
"Makeup without makeup" has already won its audience, now it's the turn of the natural manicure. For many years everything led to the fact that we began to focus on health, not on external attributes: the same finally happened with manicure. Natural length, therapeutic coating and minimal trauma will be the new firmly established trends in the new year.